The Land Surveying Process
There can be a dozen reasons why anybody would need land surveying. One of the most popular is to check the boundaries of a property, to determine if a property is prone to flooding (a certificate for this is usually required by insurance companies) and to subdivide a property, among others.
When someone learns or decides that they need to have their property surveyed, they don't know where to begin. Because of that, we'd give you a simple guide on the land surveying process.
The first step is to hire a land surveyor. You can find a land surveyor in your area through searching it on the internet, looking it up on the Yellowpages or asking around. Be clear on what kind of services you need, and what you expect of the outcome.
Surveyors usually give price quotes free of charge, and being clear on what you need will help the surveyor give an accurate price quote.
Your surveyor might also ask you for documents like records of title, deeds and survey maps. These will help the surveyor find out necessary information about your property.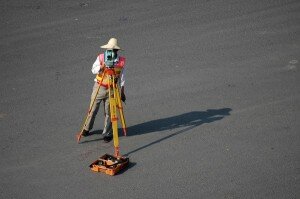 After signing a contract, your surveyor will proceed with the surveying itself. He will find more information about your property by going through County Clerk's offices as well as other agencies.
He will also review the documents you provided to make sure that they are accurate. After all these pieces of information are gathered, your surveyor, along with a crew will perform a field survey on your property.
Depending on the type of survey that you need, they might start looking for physical evidences that may affect your property's boundary. They might also look for stakes or monuments left by previous surveyors. Other tasks might also involve percolation testing and wetland delineation.
Once the results of the surveying are in, the surveyor will proceed with uploading them into a computer using specific software and then it will be drafted into a parcel. You will get a copy of the results of the surveying done from your land surveyor.
You can use this for future reference as well as evidences in case you have to bring a case (such as encroaching into your property) into court. For help on land surveying, give us a call at 256 854-9503 or send us a message through our contact form.